Ads On Things
Welcome to Ads On Things and thank you for visiting our website!
Ads On Things is a Small Business that works with you to meet your every want & need. We work with a group of over 3,000 vendors who supply in excess of 800,000 products. All of these can be customized to include your name & whatever else your situation may require. Our comprehensive, solutions oriented approach has helped make us a national leader in providing imprinted products & custom designed programs to government agencies like your own.
We invite you to visit our testimonials page to see comments left by current and former customers over the last few years.
Featured Item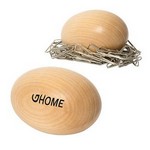 Magnetic Keep'em Egg
1.75" W x 2.5" H x 1.75" D - Maple Wood - Includes 50 paper clips that magnetically attach to the egg - When placed on your desk it looks like an egg sitting in a nest - A cute and whimsical promotion...
$8.00 - $12.28
What Our Customers Are Saying

You all do great work and provide awesome customer service and we just like to make sure that you all are aware of it!
B.W.
Department of Veterans Affairs