Ads On Things
Welcome to Ads On Things and thank you for visiting our website!
Ads On Things is a Small Business that works with you to meet your every want & need. We work with a group of over 3,000 vendors who supply in excess of 800,000 products. All of these can be customized to include your name & whatever else your situation may require. Our comprehensive, solutions oriented approach has helped make us a national leader in providing imprinted products & custom designed programs to government agencies like your own.
We invite you to visit our testimonials page to see comments left by current and former customers over the last few years.
Featured Item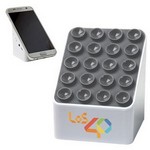 Angle 3 Watt Bluetooth® Speaker
Easy to connect using Bluetooth® V2.1 EDR Features built-in suction cups that can grip small electronic devices 3 Watt Bluetooth® speaker Includes a micro/USB cable, audio cable and user manual Perfec...
$15.99 - $18.29
What Our Customers Are Saying

Special thanks to all of you for everything that you have done to assist us with our products. I am extremely appreciative for the graphic support of Mr. Brad Heath and the excellent customer service ...
P.A.
Department of Veterans Affairs